Recently, the global payment services company Western Union announced that it is furthering its relationship with the popular messaging app Viber. As of now, Viber mobile messaging app has about 745 million unique users across the world.
Western Union also issued a press release stating that the company has plans to enhance its existing relationship with the Viber users in the UK. From now on, the Viber UK users will be able to send money to over 200 countries and union territories using the mobile app.
As per the liaison with Western Union and Viber, they have created an exclusive money transfer service wherein the entire transaction takes place within the Viber app. So, the users do not have to leave the chat in order to make the transaction and they can do the needful from within the app.
With this new relationship between Western Union and Viber, both the companies will benefit as the app users will be able to transfer money with ease while chatting with their friends and family members. At the beginning of this year, both these companies had announced that the Viber US users could send money to over 200 countries and territories across the globe.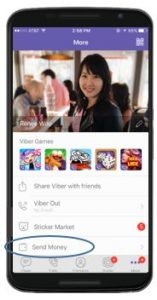 This is one of the several initiatives made by Western Union to make money transfer a hassle free experience for the users. According to David Thompson, the Executive Vice President of Global Operations and Technology and CTO at Western Union, the company is pleased to enhance its relationship with Viber to be able to conveniently send money using the Viber app.
For this the company has always been making use of technology and its advancements to bring the best of service and user experience to the customers. This new liason between Western Union and Viber makes the best use of WU Connect FinTech platform that allows the app users to send as much as £400 to their personal contacts using their credit or debit card.
The receiver of the money can get the cash sent by Western Union users at more than 500,000 agent locations across 200 countries and territories. If you customers are transferring money to a bank account then they can send as much as £500 in cash.
At this period, as a part of the launch offer the consumers will be allowed to transfer the money from the Viber app to the bank account without any transfer fee. This offer is just for a limited time!